Oliver is coming home this Thursday evening! (He will be eight weeks old three days after I pick him up.) I am so excited!
His cage is all set up, including the new FeatherBrite lamp. (That will be turned on for only 2 hours per day, btw.)
Since the cage is fairly large, I have WAY more stuff in there right now than I will keep in there at one time, long-term. For now, I want him to be able to navigate well without falling. SO, there are LOTS of perches, swings and toys in the cage. When I see that he is climbing around without falling, I will definitely remove some of the clutter.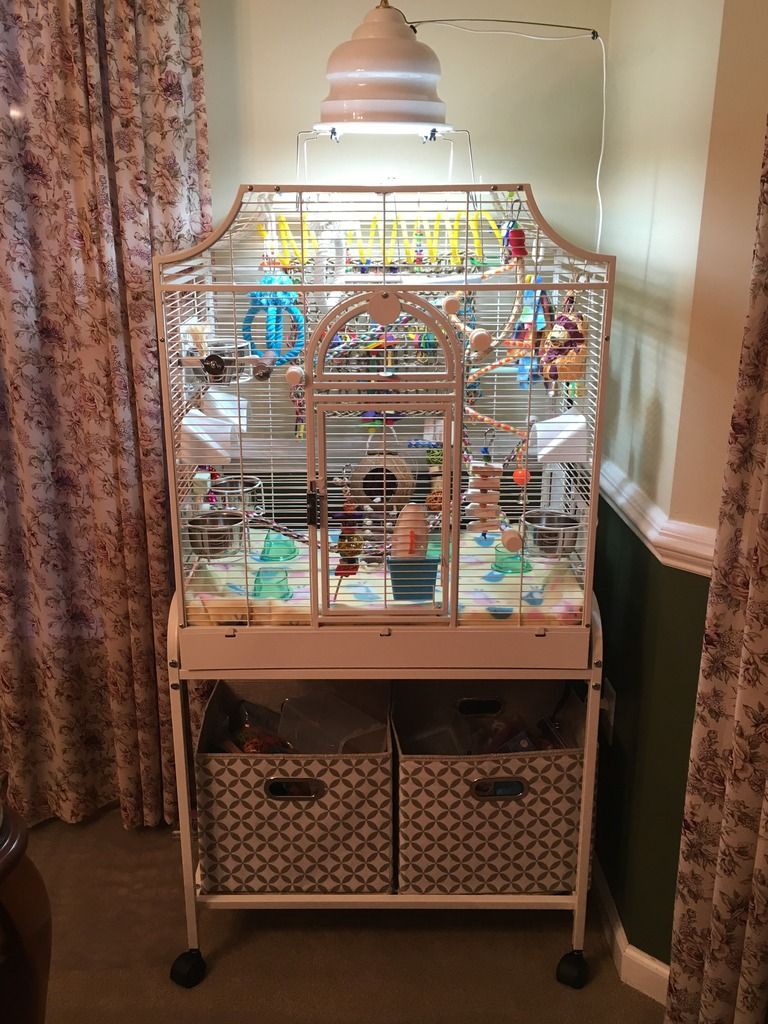 I have a couple of questions. In the top right, rear corner of the cage (the part of the cage surrounded by two walls), I installed a K & H "Cuddle Up Bird Warmer," right next to the perch that I am HOPING Oliver will use as a sleeping perch. I also placed a fleece "Snuggle Pillar" above that same perch. (Apparently, Parrotlets love these.) It is hanging right next to the heater. I figure the fleece strips will get warm, and then he can snuggle himself in there at night. (My luck, he will sleep somewhere totally different, or clinging to the back of the cage with his feet, like one of my budgies did.)
Assuming Oliver actually USES this perch for sleeping (humor me...ha ha), should I use the Snuggle Pillar at all? I am really worried that he will ingest the fleece. Has anyone here used one of these? Do you think they are safe? Should I remove it?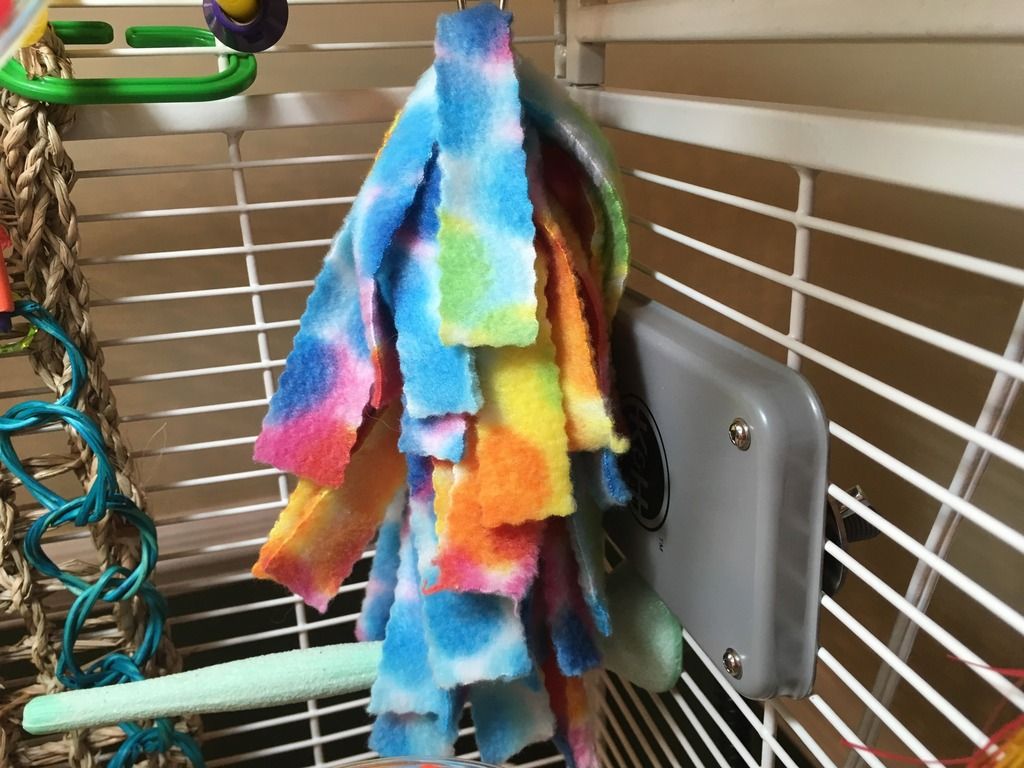 As suggested, I put a very thick layer of fleece on the bottom of the cage, to cushion falls. The fabric is one large piece (2 yards), and is folded in such a way that there are NO exposed edges he could chew. That being said, should I be concerned that he might burrow his way UNDER the folded fabric, and get stuck? I know he's a bird and not a hamster (ha ha), but I am not sure if I need to worry about that. (I will probably put white cage liner paper on top of the fleece, btw, so I don't have to wash it every day, but the photos show it with no paper on top.)
I have placed four "no-tip" crocks on the floor of the cage, which I will use for food and water until I see that he is also eating and drinking out of the dishes that came with the cage.
There are multiple perches in the cage, some very low, and he should be able to move from just about anywhere low in the cage all the way to the top without falling.
It was tricky, but despite all the stuff, I think I have managed to keep all items below out of the poop zone. I have also installed "poop protector" hoods over three of the food/water bowls, but they are high above, so he should not be afraid to use the dishes.
I have a temporary coconut hut in there, as well, low in the cage. (This was suggested by the breeder.) I know I will need to remove it in a couple of months, to avoid territorial/hormonal issues.
There are lots of chew toys, a seagrass mat with wooden toys attached, a few bell toys, and one small bird piņata. Two regular swings, one circle swing, and one sphere-type swing. Three rope perches (varying diameters), one wooden preening perch, one cement perch, and one "boing." The sleeping perch is a sandy perch, which he should be able to grip easily. If anyone thinks that is too rough, I can replace it with a small manzanita perch.
At the top rear of the cage, above the seagrass mat, is a well-stretched and secured plastic tubing coil, designed for Parrotlets. (The space in between the coils is too large for him to become trapped or strangled. I made sure of that.)
Any opinions about the snuggle pillar? The fleece on the bottom? Or anything else?
Thanks!
Lots of photos below. (Sorry if it's too many...)